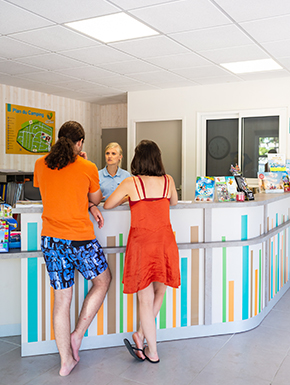 What is the deadline for paying my balance?
You must pay your balance at least 1 month before your arrival at the campsite for rentals. If you make your reservation less than a month before arrival, we request that you pay the entire amount by credit card. For pitches, you will pay your balance upon arrival by credit card, holiday vouchers or cash (no checks).
I'm not yet 18. Can I come to the campsite with my friends?
We inform you that we only accept minors accompanied by their legal guardian, who must be present throughout the entire stay.
How many people can be on a bare pitch?
The price accommodates a maximum of 6 people.
How many people can stay in a mobile home?
The number of people is based on the mobile home category:
Beach mobile home: 2 people
Cottage, Horizon: 4 people
Getaway, Riviera: 5 people
Forest, Open Sea: 6 people
Sand: 8 people.
Extra people are not allowed and babies are included in the number.
What if I have holiday vouchers?
To pay the deposit, you must send your vouchers within 10 days of your reservation. To pay the balance, you must send your vouchers up to 1 month before arrival. Send your vouchers by registered mail and we recommend you declare the value of the contents. What if you receive your holiday vouchers after the 4 week deadline? You send us a check that we will return to you once you have arrived and submitted your holiday vouchers.
I took out cancellation insurance, can I cancel my trip and be reimbursed?
You can cancel your trip if you took out cancellation insurance. You will only be reimbursed if the reason for cancellation falls under the terms of the cancellation insurance. If you didn't take out cancellation insurance and you request cancellation up until 30 days prior to your arrival, we will refund you the amount already received, excluding booking fees.
What time is check-in and check-out?
When you rent a mobile home or Sahari Tent: Check-in starting at 3:00 PM – Check-out between 8:00 and 10:00 AM.
For bare pitches: Check-in starting at 2:00 PM and check-out before noon.
How does check-in work?
When you arrive, please park outside the campsite and come to reception to check in. This avoids traffic jams at the entrance.
Bring your booking confirmation or customer reference number and security deposit payment.
The campsite will refuse rental access to people not registered on the reservation contract, or if the number of people exceeds the capacity of the rented accommodation.
What should we do if we arrive late?
Let the campsite know as soon as possible, and we will tell you what to do.
Should we bring our own sheets?
All our rentals have duvets or blankets and pillows. You can bring your own bed linens or rent bed linen kits on site (1 kit per bed).
Where can I find the inventory for my rental?
You will find the inventory in your holiday packet, which you will receive via email 7 days before arrival. All mobile homes are equipped with an electric coffee maker and a microwave.
Do mobile homes have a TV?
Yes, in all mobile homes rented directly from the campsite. Mobile homes managed by tour operators such as Mistercamp, Campings.com, La France du Nord, etc. do not have TVs.
Are pets allowed at the campsite?
Pets are allowed. There is an additional fee of €5/ day. They must be up to date on their vaccines and you must bring their vaccination record with you. Only cats and dogs are allowed, and category 1 and 2 dogs are not permitted. Pets must be leashed when at the campsite.
Can I wear swim trunks at the pool?
Swim trunks are not allowed at our pool area, you must wear swim briefs or boy shorts, in accordance with French law.
Is the pool heated?
The indoor pool with water slide and wading pool are heated from April through September. The outdoor pool, water slides and wading pool are heated from June to early September.
Is there WiFi throughout the campsite and is it free?
WiFi is free at the bar but a fee must be paid at pitches.
Are there activities at the campsite? Are they included in the price?
Yes, the campsite organizes activities during the July-August summer holidays. They are generally included in the price, with some exceptions.
Can visitors use the pool area?
No, pool rules only allow campsite guests access.
When are the snack bar and bar open?
The snack bar and bar are open from May to September (opening hours during low season available at reception). In July and August, the bar is open from 8:00 AM to midnight on Wednesday and Saturday and from 10:00 AM to midnight on Monday, Tuesday, Thursday, Friday and Sunday.
What types of grills are allowed?
Charcoal grills are not allowed. Only gas grills are allowed, and you can either bring your own or rent one on site. Electric grills and griddles are prohibited.
How far away from the campsite are the beach, bike paths and downtown?
The beach is 3 km from the campsite. You can get there by car or by bike on the bike path. You can access the bike paths 50 meters from the campsite. There is a paid shuttle during the summer in July-August, schedule and rates available on the tourist office website. Downtown is 5 km away.